Listers, you're probably familiar with the concept of Christian coffeehouses, and chances are that you've seen one or possibly even stepped into one. Christian Coffeehouses are usually locally owned and operated cafés that promote Christianity through Christian music, events, speakers, and sometimes keep a minister of some kind on staff. Though smaller in number, there are also a few Catholic coffeehouses throughout the country, e.g. St. James Coffee. More recently, the advent of online coffee shops has begun, and the Christian coffeehouse has found its way to the web.
Christianity has promoted the drinking of coffee since AD 1600 even though coffee originally finds its origin in within Islamic culture. Since Islamic law prohibits the drinking of beverages fermented from fruit or grain Muslims were drinking coffee, while Christians were busy drinking wine and beer. It is said that Pope Clement VIII is responsible for coffee's rise to fame. In AD 1600 Clement declared, much to the chagrin of the opponents of coffee, "Why, this Satan's drink is so delicious that it would be a pity to let the infidels have exclusive use of it. We shall cheat Satan by baptizing it, and making it a truly Christian beverage." Subsequently, coffee has found its place within Western culture, and Christianity. For More on the history of coffee click here.
So grab your SPL coffee mug, Listers, and read on. Here is the list of Catholic coffee online:
Leading the way in Catholic Coffee, Mystic Monk is coffee brand operated by the Carmelite Monks of Wyoming. At their monastery near Cody, Wyo., the monks roast the coffee themselves as part of their daily manual labor. They are a newer, traditional community of Carmelite monks. They were founded in 2003 and maintain the use of the traditional Latin liturgy of the Carmelite Rite. Every purchase of coffee brings the monks close to building their new monastery. If you're interested in seeing their plans, brace yourself for awesomeness and then, click here.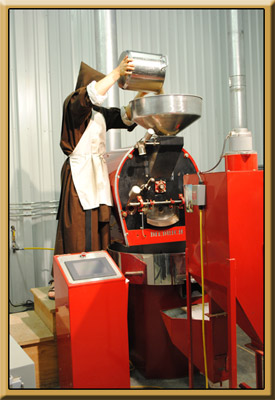 Not only do the monks at Mystic Monk Coffee sell coffee, they also sell high quality teas and religious goods. So, after you've filled your SPL mug with Mystic Monk Coffee, you can use that time to pray using your rosary from the very same monks. If you're into using the time it takes you to drink coffee to increase spiritually, you should like this next company.
Bringing Catholic Coffee back in touch with its roots, this Christian coffee company founded by a Roman Catholic deacon and his wife, promotes the Christian life through Coffee drinking. Their philosophy is that in the 10-20 min. it takes you to drink your morning cup of coffee, you could be increasing in your spiritual life through contemplative reading of the bible, prayer, spiritual reading, and other such activities that promote a relationship with God.  "HIS Coffee Company is taking this 'very-developed' daily habit of drinking coffee, and weaving in the 'under-developed' habit of Christian study and prayer so that they become one daily activity."
Additionally, both HIS Coffee Co. and the next online coffee company in our list are can assist you in your fundraising needs.
Is a Christian based organization whose missions is to "help churches and other organizations setup and operate HeBrews Café coffee bars within their establishments." Their vision encourages the communal life in places of peace and tranquility, enjoying life and good coffee. Based in BC, Canada,  HeBrews Café sells beans roasted by Canterbury Coffee Specialty Coffee Roasters. Though they are not a Catholic company, HeBrews Café allows a way for Catholic parishes to organize and set up their own Catholic coffeehouse atmosphere, and so, what isn't explicitly Catholic to begin with, has every potential to be Catholic in every sense of the word.
More "Life & Leisure" from SPL:
More lists from Abram: